VAGINA DENTATA ORGAN "un chien catalan"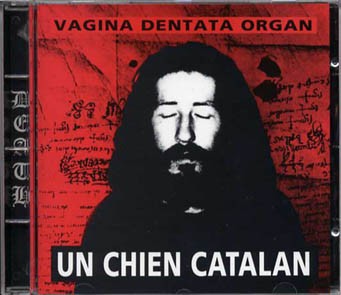 Groupe de Jordi VALLS qui commença avec Throbbing Gristle et la COME organisation. Artiste extrème faisant la synthèse du surréalisme, des traditions catalanes et de la Musique Industrielle. Pour ce disque l'instrument principal fut une Harley Davidson. Dédié à Eliseu Huertas.

The band of Jordi VALLS who began with Throbbing Gristle and the COME organization. Extreme artist making a synthesis of surrealism, the Catalan traditions and the Industrial Music. For this disc the main instrument was a Harley Davidson. Dedicated to Eliseu Huertas.
| | |
| --- | --- |
| Weight | 0.12 kg |
| Date Edition | 1994 |
| Format/Size | 12,5x14 cm |
| Text(e) | français (NO english translation) |
VAGINA DENTATA ORGAN "un chien catalan" reviews
Be the first to write a review of this product!